Setlists 2.0 finally hits the App Store today. It's a huge update that involved not only tons of under-the-hood improvements to take advantage of Apple's latest iOS technologies, but also the addition of a large number of our most requested new features. To say it was a massive undertaking is an understatement. The team really outdid themselves on this one.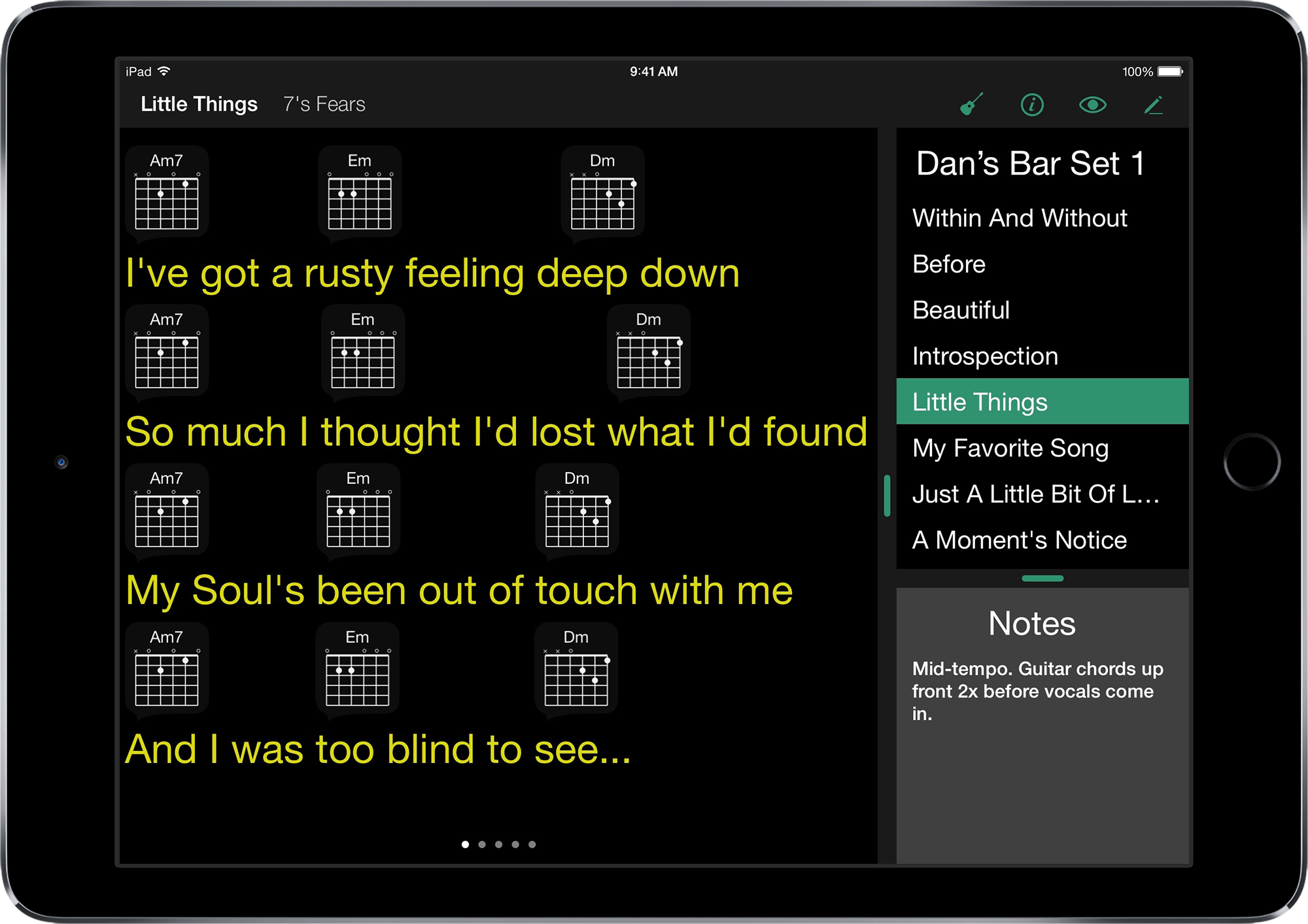 I can't wait to use it on stage during the next few Airplane Mode gigs.
The most interesting aspect of this update for most of my readers, I'm guessing, is the change we're making to our pricing strategy. For years, Setlists has always been a paid-up-front, "premium" app at $9.99 USD. This time around, though, we've decided to experiment with making the app free to download, with a single in-app purchase to unlock the app's full potential.[1]
Will this make Setlists a better business for us? We've looked at a lot of other apps that have similar strategies, and we've tried to avoid the pitfalls others have warned us about—but time will tell what the results of our experiment will be.
One interesting way to look at this switch is that our marketing no longer has the burden of making the sale. Our web site, our screenshots, whatever press we get, whatever ads we buy—all of that now only needs to convince people to download and try the app. Still not an easy task, but it's easier than asking them to fork over money for an app they've never used.
The app itself now has to make the sale. And that sits better with me. I'd rather be judged by the app than the ads we place for the app or how pretty our screenshots are. Whatever the downsides of freemium (and there are many) that one change is certainly a good thing.
We're confident once musicians try Setlists, a large number of them will find it suits their needs. So much so that we made the price to unlock $14.99 rather than $9.99. This might not be a "free trial" officially, but as with a free trial, our buyers aren't being forced to take as great a risk, and thus we can charge accordingly.
In any event, everyone at Bombing Brain is looking forward to much smaller, incremental updates for a long while after this.
---
I know, we're late to the freemium party, but we're still not at all convinced that freemium is right for every app out there.  ↩